Season Three Episode One: "Old Friends and New Enemies"
Edit
Összefoglaló
Edit
A csapatot Nigel, az északi lázadás vezetője Hollófészekbe küldte, hogy ellenőrizzék betartotta-e szavát a földesúr, Zanian Duskwalker, aki megígérte, hogy nem áll az ÉKÁ mellé. A csapat tagja volt Bulat, Melano Gaster, Jax, Sir Eron Danien és Taeral Ferth. Miután megérkeztek, északi csapatokat találtak a kis váracska mellett, valamint Daudot, egy Keresztúti bérgyilkost, aki hasonló céllal érkezett mint a csapat: az északi egység vezetőjére, Kenwayre vadászott.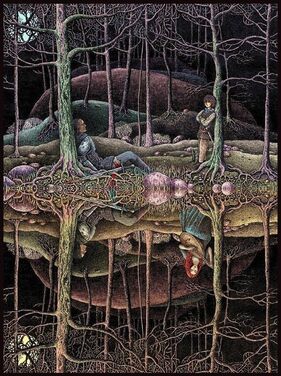 Miután a csapat információt gyűjtött a városban az északi erőkről, frontális támadás mellett döntöttek és felégették az északi tábort. A maradék kommunista erők bezárkóztak a várba Kenwayel és Zaniannal együtt. A csapat kettévált, Bulat, Melano és Sir Eron beteleportált, Daud fentről támadott, míg Jax és Ferth fellázította a falu népét és megrohamozták a kaput.
Sir Eron és Melano Daud segítségével megölték Kenwayt a toronyban, azonban Zanian Duskwalker megszökött a kavarodásban, meggyilkolta Bulatot, majd felvette alakját és megtévesztve Jaxot megszökött a faluból. Jax és Ferth rohama sikeres volt, bár a falubeliek nagyja elesett, de az északi csapatot legyőzték.
Fontosabb halálok:
Edit
Előző Évad
Edit
Következő Epizód:
Edit
Ad blocker interference detected!
Wikia is a free-to-use site that makes money from advertising. We have a modified experience for viewers using ad blockers

Wikia is not accessible if you've made further modifications. Remove the custom ad blocker rule(s) and the page will load as expected.