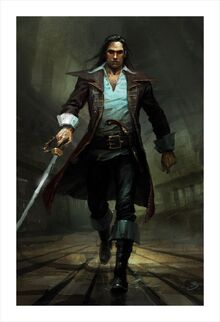 Pirate a Tavaszi Háború előtt nagyjából két emberöltővel élt legendás lázadó, szabadságharcos és útonálló volt. Közrendűekből álló szabadcsapatával öt évig tartotta ellenőrzése alatt Rhea partvidékének egy számottevő méretű szakaszát, hatalma a mai Pirate's Bay körül koncentrálódott.
A legenda szerint lázadását egy sellő iránt érzett szerelme indította - a mágikus teremtmény, miután elcsábította és befolyása alá vonta a fiatal harcost, a saját céljaira használta fel, elősegítve fajának bosszúját. Mások azt állítják, hogy falujának feldúlása indította el Pirate hadjáratát. A köznép a mai napig mesék és dalok formájában őrizte meg az alakját, és a szolgaság nélküli, szabad világot, amit ugyan átmenetileg, de végül megteremtett.
Pirate csapatai egy tengeri ütközet során szenvedtek döntő vereséget, vezetőjük húsz emberével fogott dicstelen menekülésbe. Lord Zorien Cardow flottája azonban elfogta és lovaikhoz kötve a szárazföld belsejébe hurcolta a felkelőket. Végül az összetört lázadóvezért Keresztútban végezték ki.
Ad blocker interference detected!
Wikia is a free-to-use site that makes money from advertising. We have a modified experience for viewers using ad blockers

Wikia is not accessible if you've made further modifications. Remove the custom ad blocker rule(s) and the page will load as expected.