Season 3
Edit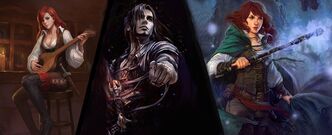 Kyra egy fiatal es naiv eszaki bard volt, aki Garrett Blackheaddel utazott halala elott. Amikor Bulat kolostoraban Garrett-et a Sarga Solyom megolte, Kyra elrejtozott. Ezutan Garrett rejtekhelye utan nyomozott es vegul megtalalta azt Zuhatagtol eszakra a hegyekben. Melano Gaster segitsegevel bejutott a kulonos helyre ahol egy magikus sotet anyag az utjukba allt, de ketten egyutt atjutottak. Miutan megszereztek Garrett kardjat, menekules kozben a Sarga Solyom elfogta oket. Reszletekert lasd: One-Off I.
Kyrat (Melanoval ellentetben) megkinoztak, de az Orzok es Zanian emberei egyutt megmentettek Alfonz, a feher magus vezetesevel. A sulyosan serult lanyt Badger apolta, de amikor Kyra elkezdett a masodik Blackehad kardrol beszelni, Robert Blackhead (az elso kard) parancsara Sir Eron Danien mindkttojuket meggyilkolta, hogy megmentse batyjat.
Ad blocker interference detected!
Wikia is a free-to-use site that makes money from advertising. We have a modified experience for viewers using ad blockers

Wikia is not accessible if you've made further modifications. Remove the custom ad blocker rule(s) and the page will load as expected.